Photoacoustic Endoscopy Could Improve Crohn's Treatment
By Medimaging International staff writers
Posted on 07 May 2019
A new study highlights a prototype photoacoustic (PA) imaging endoscope that could be used to characterize inflammation and fibrosis in Crohn's disease (CD).
Developed at the University of Michigan (U-M; Ann Arbor, USA) and Heilongjiang University (Harbin, China), the capsule-shaped acoustic resolution PA endoscope, which is just 7X19 millimeters is size, is designed to perform mulitwavelength side-view scanning of the intestinal strictures characteristic of CD. The endoscopic probe delivers near infrared light (NIR) at 1310 nanometers, the wavelength absorbed by collagen protein, which is characteristic of fibrosis. The light absorption causes collagen to expand slightly, leading to a mechanical vibration that can be captured using ultrasound imaging.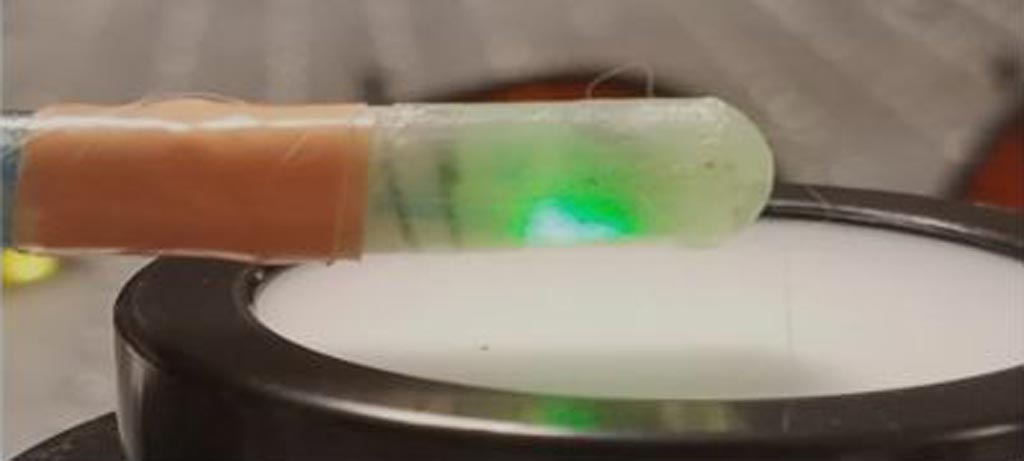 The performance of the probe was tested in phantom experiments and an in-vivo rabbit trinitrobenzene sulfonic acid (TNBS) model with acute (inflammatory only) or chronic (mixed fibrotic and inflammatory) colitis. Motion artifacts (such as intestinal peristalsis and respiratory motion) were compensated for to improve image qualities. The probe successfully identified significant PA measurement differences between normal, acute, and chronic intestinal strictures, which were also confirmed by histopathology. The study was published in the May 2019 issue of Biomedical Optics Express.
"Currently, there is no imaging modality that can be used in the intestine to distinguish inflammation from fibrosis. The difficulty in accurately assessing the presence and development of fibrosis in the strictures adds a great deal of complexity to Crohn's disease management decisions," said senior author Guan Xu, PhD, of U-M. "This new imaging technology could help more accurately plan therapy for each CD patient. This would allow more targeted treatment and help minimize any adverse effects that might result from treatment."
PA imaging is based on non-ionizing laser pulses fired into biological tissues; some of the laser energy delivered is converted into heat, leading to transient thermoelastic expansion and subsequent wideband ultrasonic emission, which can be detected by ultrasonic transducers and analyzed to produce images. The magnitude of the PA signal is proportional to the local energy deposition, which can be confirmed by optical absorption contrast on the images of the targeted areas.
Related Links:
University of Michigan
Heilongjiang University

Latest General/Advanced Imaging News
Other channels