Cardiac Mapping Technology Advances Arrhythmia Visualization
By Medimaging International staff writers
Posted on 06 Feb 2019
An advanced cardiac imaging and mapping system displays the heart's true activation pattern, turning the chaos of an atrial arrhythmia into a clear vision for electrophysiologists.
The Acutus Medical (Carlsbad, CA, USA) AcQMap cardiac imaging and mapping visualization system combines proprietary charge mapping and high-resolution ultrasound (US) imaging to create animated, three-dimensional (3D) images that display precise anatomy and atrial arrhythmias. Using AcQMap, physicians can create full-chamber, 360-degree reconstructions of the atrium in real time, enabling customized treatment and an iterative--mapping, ablation, re-mapping, re-ablation--strategy for the treatment of persistent atrial fibrillation (AF) ablation procedures.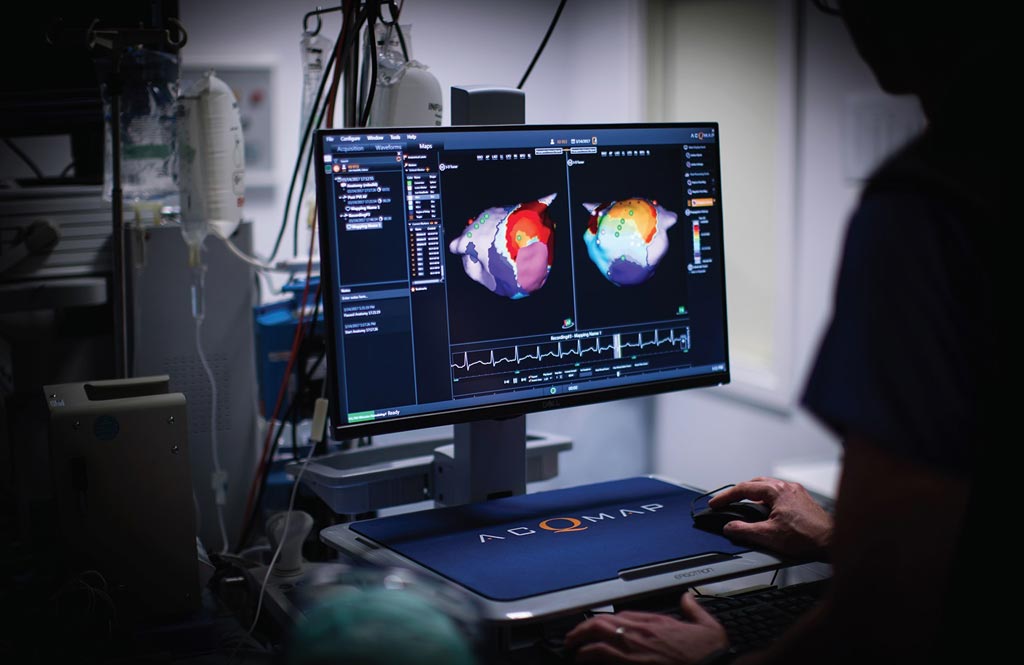 AcQMap displays cardiac electrical activity as waveform traces, dynamic 3D dipole density maps overlaid on the chamber reconstruction that show chamber-wide electrical activation, allowing remapping of the chamber at any time using proprietary mapping catheters and conventional electrophysiology catheters. Results of a recent study, presented at the 24th AF Symposium held in Boston (MA, USA), show that sinus rhythm was achieved at the end of the procedure in 98% of patients, freedom from AF after one or two procedures occurred in 93%, and 82.4% experienced zero AF episodes in the 12 months following.
"Acutus Medical has an unwavering focus on developing technology that accelerates success and improves outcomes in electrophysiology procedures. A historical lack of innovation in cardiac mapping led to the unfortunate and common belief that repeat ablations are simply unavoidable," said Vince Burgess, CEO of Acutus Medical. "AcQMap could help physicians improve AF ablation outcomes by providing tailored therapy options and reducing the need for repeat procedures. That's improvement that saves time, reduces financial burden, and most importantly makes life better for patients."
"We have mapped arrhythmias with the same technology for decades without asking if there's a better way to locate ablation targets and deliver a more precise, patient-specific therapy," said lead author Atul Verma, MD, of Southlake Regional Health Centre (Newmarket, Canada). "With better imaging, we can perform patient-centric ablations with great success, while dramatically improving patient quality of life. This advanced cardiac imaging system paints a complete, high-definition picture in real time and is an important step in advancing the standard of care for AF ablation procedures."
Related Links:
Acutus Medical

Latest General/Advanced Imaging News
Other channels