Mobile Fluoroscopic System Continuously Images Extremities
By Medimaging International staff writers
Posted on 12 Feb 2018
A next-generation mini C-arm offers orthopedists, podiatrists and clinicians diversified imaging options, as well as upgraded storage and transport.
The Hologic (Marlborough, MA, USA) Fluoroscan InSight FD Mini C-Arm extremities imaging system is designed to provide fluoroscopic imaging during diagnostic, treatment, and surgical procedures of the shoulders, limbs, and extremities. The system consists of a C-arm attached to a mobile image processing workstation with a streamlined monitor and integrated keyboard. The C-arm supports a high-voltage generator, X-ray controls, collimator, and a metal-oxide semiconductor (CMOS) flat panel detector (FPD) and an X-ray source monoblock used for image acquisition.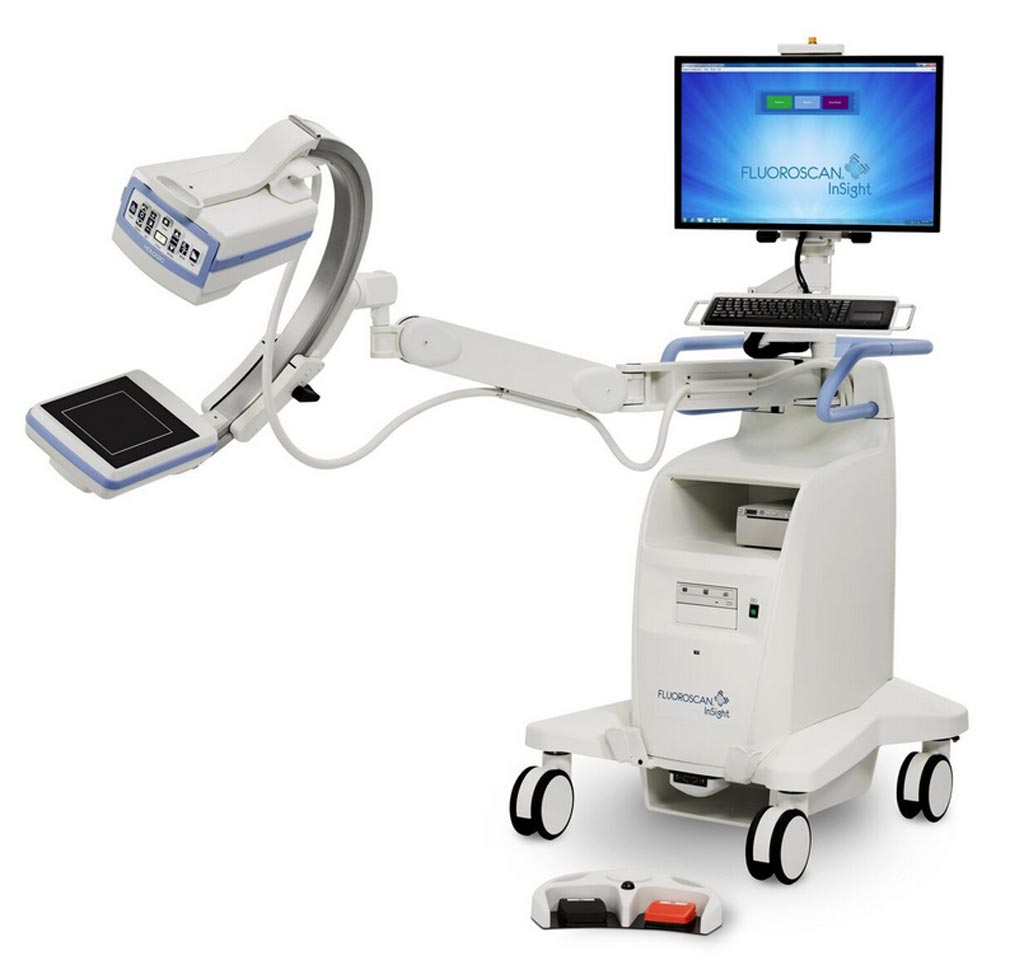 The C-arm is capable of performing linear and rotational motions that allow the user to position the imaging components at various angles and distances with respect to patient extremity anatomy. The C-arm and support arm are mechanically balanced, allowing for ease of movement and capable of being locked in place using an electronically controlled braking system. The workstation is a stable mobile platform that supports the C-arm, image display monitor, processing equipment, recording devices, and power control systems.
An intuitive 24-inch high definition (HD) touch screen controls the system, with user-friendly features that include pinch-to-zoom, notifications that allow a way to identify saved images, a save filter, and an auto-save option that saves all images acquired during an imaging session. Imaging upgrades include a low-dose rate mode that allows reduction of dose rates by up to 50% (compared to auto mode), while continuing to deliver clinically equivalent images. A high-resolution mode enables clinicians to use full detector resolution.
"This new system is a significant advance in our goal to push the industry forward and provide customers with the smartest available engineering that incorporates functionally strong, user-friendly, and time-efficient features," said Pete Valenti, president of breast and skeletal health solutions at Hologic. "These enhancements address major pain points and offer solutions that increase workflow and productivity, ultimately leading to a better patient experience."
Fluoroscopy is an imaging technique that uses X-rays to obtain real-time moving images of the internal structure and function of a patient, which is useful for general radiology, interventional radiology, and image-guided surgery. Because the patient must be exposed to a continuous source of X-rays instead of a momentary pulse, a fluoroscopy procedure generally subjects a patient to a higher absorbed dose of radiation than an ordinary (still) radiograph, is it used only when a risk-benefit threshold is exceeded.
Latest General/Advanced Imaging News
Other channels